Brainnet Software
The BFW (Brainnet for Windows) software is designed to fully exploit every possibility of your Medatec device. Its comprehensive list of advanced features covers every aspect of sleep: respiration, sleep stages, cardio analysis, SpO², CO², epilepsy, RBD, autonomic arousals, PLM... This exceptional software, which is continuously updated in line with the latest international guidelines, combines efficiency, flexibility and ease of use in an unrivaled way.
Create your own protocols
Integrate with hospital's IT systems (HL7, Citrix...)
Scalable architecture, one PC up to dozens of workstations
Unique High-resolution graphic enhancement
Video multi-camera
---
Brainwalker 3
Top-quality wireless digital EEG holter
As a pioneer of wireless EEG, BrainWalker3 is the ideal device for ambulatory EEG, with or without video recording, as well as for long-term monitoring in confined spaces (Holter, EEG, neonatology...). Its wireless technology improves the patient's comfort during longer recordings without compromising the signal quality or the number of channels.
Wireless transmission
Holter and on-line recordings
Huge battery life (60hrs)
Compact and lightweight
---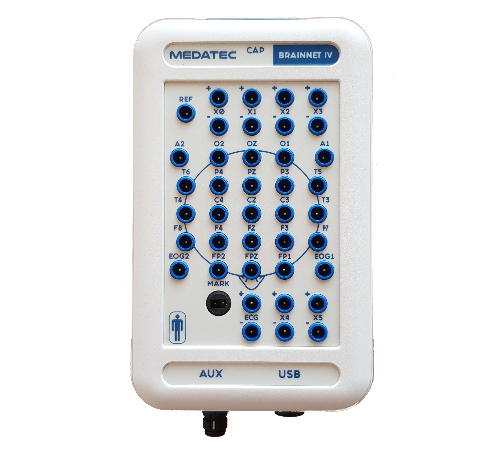 B4
EEG advanced system
The latest addition to our Neurology product range stands out by its innovative technology (24 bits Direct digital EEG, constant nonintrusive EEG quality monitoring, active reference switching...) make our Brainnet4 the perfect candidate for brilliant EEG recordings in any setting : routine, long-term monitoring, day or night epilepsy diagnosis, Neonatology...
Efficient, flexible, and ergonomic
34 channels (24 bits) for a complete and accurate diagnosis
Up to 3 synchronous video cameras
DDE technology
---